Raise a Floppa - The Loop
Play Sound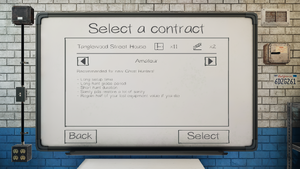 There are four difficulties in Phasmophobia: Amateur, Intermediate, Professional, and Nightmare. All difficulties feature their own modifiers on setup time, ghost activity, hunting phase, and rewards.
Difficulties
Amateur
"Recommended for new Ghost Hunters!"
This is the simplest difficulty aimed at players who are new to the game and are slowly learning the mechanics.
Intermediate
"The standard Ghost Huntin' experience"
This difficulty is for the average player who has a good knowledge of the game's mechanics.
Professional
"For experienced Ghost Hunters"
This difficulty is for experienced players who have a relatively strong foundation in the core mechanics, ghosts, and strategies needed to complete the investigation.
Nightmare
"A challenge for the best of the best"
This difficulty is a challenge aimed solely at players who know the game's mechanics inside-out, have strong practical experience in ghost hunting, and have a solid strategy or action plan, especially in teams. The developers have stated that this is meant as an occasional challenge for top-tier players rather than a new normal.
Summary Table
Variable
Amateur
Intermediate
Professional
Nightmare
Level needed
1
1
15
20
Cash reward
1x
2x
3x
4x
Experience gain
1x
1.5x
2x
2.5x
Setup time
5m
2m 30s
None
None
Sanity consumption
1x
1.5x
2x
2x
Sanity pill restoration
40%
35%
30%
25%
Ghost interactions
Frequent
Common
Uncommon
Uncommon
Ghost events
Uncommon
Common
More common
More common
Hunting phase length[note 1]
Short
Medium
Long
Long
Grace period at
start of hunt
5s
4s
3s
2s
Item insurance on death
50%
25%
0%
0%
Fuse Box on at start
Yes
No
No
No
Ghost responsiveness
specified
Yes
Yes
No
No
Doors open at start
None
Few
Some
Many
Ghost room may change
No
No
Rarely
Occasionally
Amount of monitors damaged
0
0
0
2 (Sanity monitor,
Ghost activity monitor)
Successful kill extends hunt
No
No
No
Yes
Fuse box shown on map
Yes
Yes
Yes
No
Evidence given
3
3
3
2
History
Early Access Alpha
30 July 2020
(Part 2)
Added Intermediate and Professional difficulties.
2 August 2020
Intermediate and Professional difficulties now only have slightly less ghost interactions.
Early Access (Steam)
0.4.0
Added the Nightmare difficulty.
The existing difficulties have been reworked.
Notes