The Site Activity Monitor is the fourth monitor on the wall of the van, which shows the activity ranging from 0 to 10, 0 indicating the Ghost is disturbing nothing, while 10 indicates a possible Hunt, the door of the ghost room closing, lights shutting off in the room, and the ghost manifesting in the room, and the exit door of the house closing, but not locking.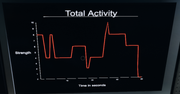 Currently in beta, the graph is spiky and shows varying levels. This is to prevent getting EMF Level 5 without the need of an EMF Reader
How It Works
The Site Activity Monitor shows an estimate of all EMF spots in the map. Having high levels of activity may denote an EMF Level 5, but can also simply mean that the Ghost interacted with multiple objects.
Higher levels generally denote increased likelihood of more violent integrations. Level 10 does not always mean a Hunt is taking place, but every time a hunt takes place, the level is always 10 until the hunt ends.
Community content is available under
CC-BY-SA
unless otherwise noted.